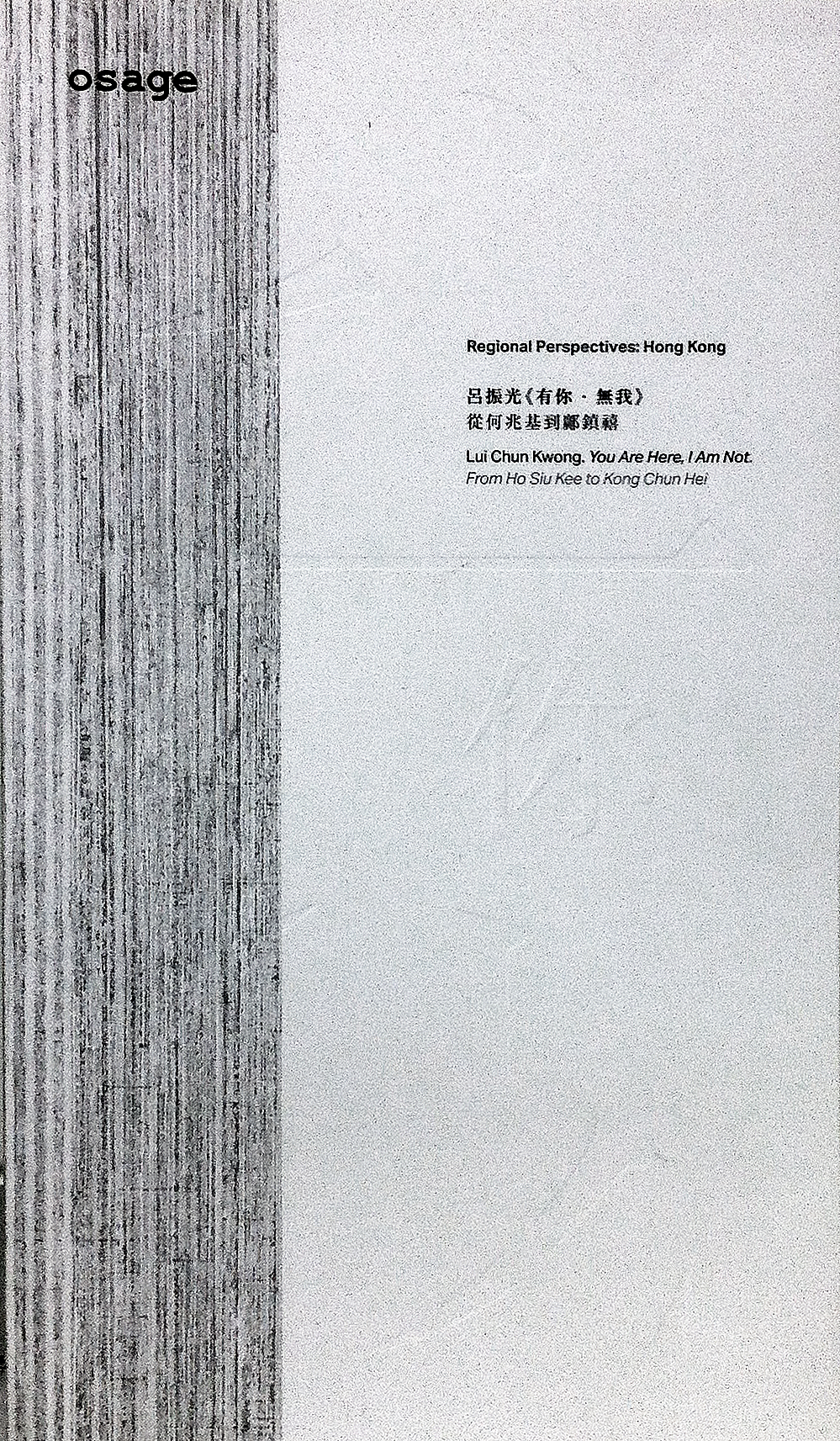 ISBN : 978-988-99399-4-6
Publisher : Osage Art Foundation
Date Published : November 2012
Author : Vivian Poon, Eva Man, Ho Siu Kee
Editor : Agnes Lin, Eugene Tan
Designer : Ansion Suen for Osage Design
Curator : Eugene Tan, Vivian Poon, Sonja Ng
Artist/s: : AMA, Au Hoi Lam, Chan Sai Lok, Chow Chun Fai, Josephine Chow, Margaret Chu,
Carmen Ho, Ho Sin Tung, Ho Siu Kee, Hui Chui Hung, Hung Keung, Hong Ko,
Kong Chun Hei, Kong Kee, Kwan Sheung Chi, Wong Wai Yin, Cass Lam,
Lam Hiu Tung, Jaffa Lam, Lam Tung Pang, Lam Yuk Lin, Lam Yuk Mui, Flora Fok
Yim Sui Fong, Sarah Lai, Elise Lai, Woody Lee, Woody Lee, Leung Chi Wo,
Sara Wong, Joey Leung, Otto Li, Li Lau Mang, Ling Chin Tang, Lui Chun Kwong,
Ma Chi Hang, Mok Yat San, Man Fung Yi, Pak Sheung Chuen, Sin Yuen,
Samuel Adam Swope, Tang Kwok Hin, Tsang Chui Mei, Sara Tse, Tse Yim On,
Annie Wan, Wong Chiu Tat, Wong Tin Yan, Woofer Ten, Yolanda Yeung, Karr Yip
This catalogue was published on the occasion of the exhibition, Lui Chun Kwong: You Are Here, I Am Not held at Osage Kwun Tong from 18 September 2010 to 07 November 2010.
The exhibition consists of works by more than fifty Hong Kong artists. All the participating artists are graduates of the Fine Arts Department at The Chinese University of Hong Kong, where Lui taught for more than twenty years. For this exhibition, Lui sees his works as ready-mades that become the starting point for collaboration with his former students. After initial discussions with Lui, the artists are at complete liberty to use the work, and even transform it with their own ideas and interpretations, to create a new work. With Lui's artworks as the point of departure, this exhibition will examine the possibilities resulting from collaboration between Lui and his former students and will further explore the intricate and complex relationship between teacher and student and its role in artistic creation. Through this fellowship of past teacher-student relations and their collaboration as artists in the present, as well as a platform to differentiate from their usual mode of thinking and working, it will also be an examination of the artistic practices of each artist in the exhibition.